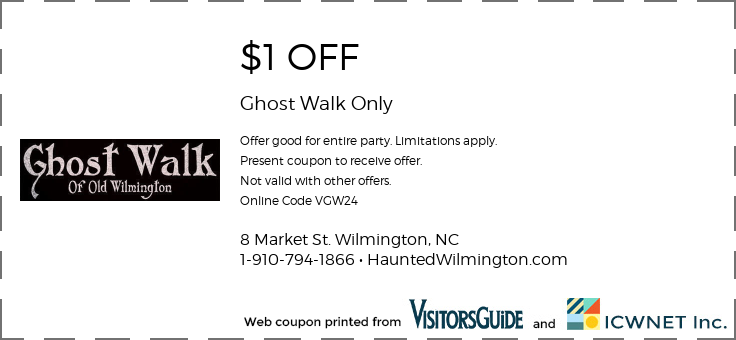 print
Wilmington's Award-Winning Ghost Walk and Pub Crawl
Journey into the depths of Old Wilmington on an adventure to the Cape Fear's most actively haunted locations. Hear eerie tales of ghostly occurrences, including recent guest encounters.
With more than four centuries of history, it's understandable that some of Wilmington's rich past lingers on, and visitors with a darker side can get face-to-face with some of these ghoulish legends via an entertaining and spine-tingling Ghost Walk of Old Wilmington.
Meandering through the downtown streets of Wilmington after-hours, and touching on some of the often forgotten stories of this rich city's past, explorers will have an educational and undeniably fun time digging up the Port City's old ghosts, while learning more about what makes this city by the coast so fascinating.
The Ghost Walk of Old Wilmington starts, appropriately, near the Cape Fear River, and then meanders through some of the downtown area's more famed streets as well as some lesser-known alcoves.
Patrons will explore 275-year old alleyways where privateers and pirates once roamed, will veer past ancient live oaks that are littered with dangling Spanish moss, and will even make a visit to historic, although likely haunted, local cemeteries.
With guides who have been researching the local history since 1978, visitors who embark on this spooky tour will be treated to a dark but utterly engaging lesson on Wilmington's lesser-known, and more exciting, chapters of Cape Fear and American history.
We are Wilmington's #1 haunted attraction.
Buy your tickets and meet us at the sign!
We meet 20 minutes before departure at the Ghost Walk sign, riverfront at Market and Water Streets
8 Market Street, Wilmington, NC 28401