The Coastal Carolina region has long been known to frequent visitors as a golfer's paradise, and Oak Island is certainly no exception. The Oak Island Golf Club is a favorite destination among Wilmington residents, and has gained notoriety along the East Coast as one of the most entertaining, and scenic golf courses, along the southern North Carolina shoreline.
With a fantastic design that takes advantage of the natural scenery and the distant Atlantic Ocean views, this course and the accompanying country club is sure to keep all the golfers in your vacationing crew fully entertained.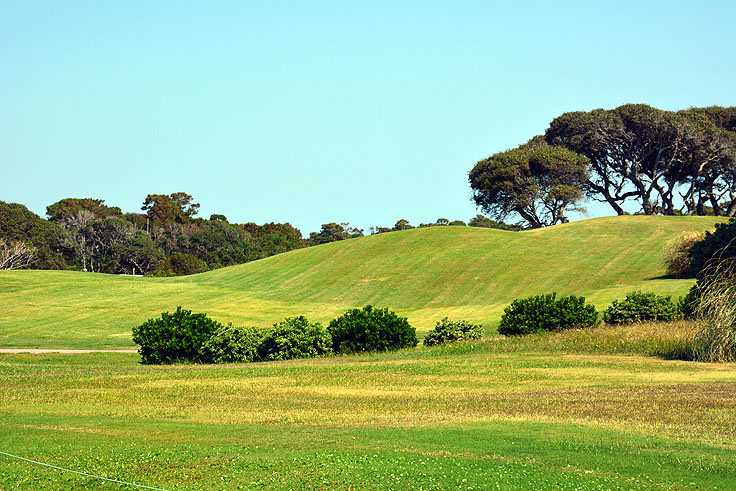 The course was designed and built in 1962 by world-renowned golf architect George Cobb. The 18 Hole course essentially meanders around Oak Island and Caswell Beach, featuring incredible vistas of the oceanfront and local terrain, and plenty of opportunities to admire the native wildlife. Golfers here have reported spotting waterfowl, shorebirds, and even an occasional alligator or two during a long morning or afternoon of play, and with a canopy of Live Oaks and Yaupon trees, the setting is deceivingly wild, and perfectly representative of the local Oak Island landscape. Outside of the full course, an extensive practice facility is located nearby, which includes sand traps, a driving range, and putting greens to help golfers perfect all aspects of their game.
At the end of a long day on the greens, golfers can saddle up to Duffer's Pub and Grill, known among members as "The best watering hole (and 19th hole) on Oak Island." The restaurant features both lunch and dinner in a casual dining setting, and is open to the public. With a full bar, hearty local seafood and steak dishes, and seasonal music and dancing on the decks, the Grille and Pub is always a fun outing even without a pre-requisite day on the golf course. Banquet rooms are available for special events and weddings, and restaurant patrons can call for more information, or book a reservation for dinner or a special event, by contacting the club directly at 910-278-9299.
The clubhouse also features men and women's locker rooms, a snack bar, and a full service Pro Shop where golfers can sift through the newest and best equipment to improve their game. There are also a number of golf tournaments throughout the year, aimed at both members and special groups, which are both frequent and available virtually every month. A complete list of upcoming golf tournaments can be found on the club's calendar.
As for membership, residents and visitors alike will find a myriad of options from daily or even weekly passes to full year access to the club. Oak Island residents receive a special discount, however local vacationers can hit the links for a nominal fee to enjoy an a.m. or p.m. tee time. Rates vary slightly by both season and time of day, and additional amenities, like locker rentals, are also available at a small added cost. Golfers can opt to rent a golf cart or also walk the course as well, with some seasonal restrictions for walkers.
The Oak Island Golf Club is a fantastic destination that is conveniently located along Caswell Beach Road just off of Hwy. 133, and yet feels like its worlds away from the mainland. An easy 30 minute drive for Wilmington commuters, and just a quick walk away for visitors staying in Caswell Beach, the course is a stunning homage to the local landscape that will both challenge and delight golfers with its well-designed course and incredible scenic views.
Open to visitors with a special guest membership, and featuring a local watering hole that everyone can saddle up to and enjoy, the Oak Island Golf Club offers a world of fun for its patrons, both on and off the gorgeous oceanside golf course.
Is this your business? Update your listing by messaging us