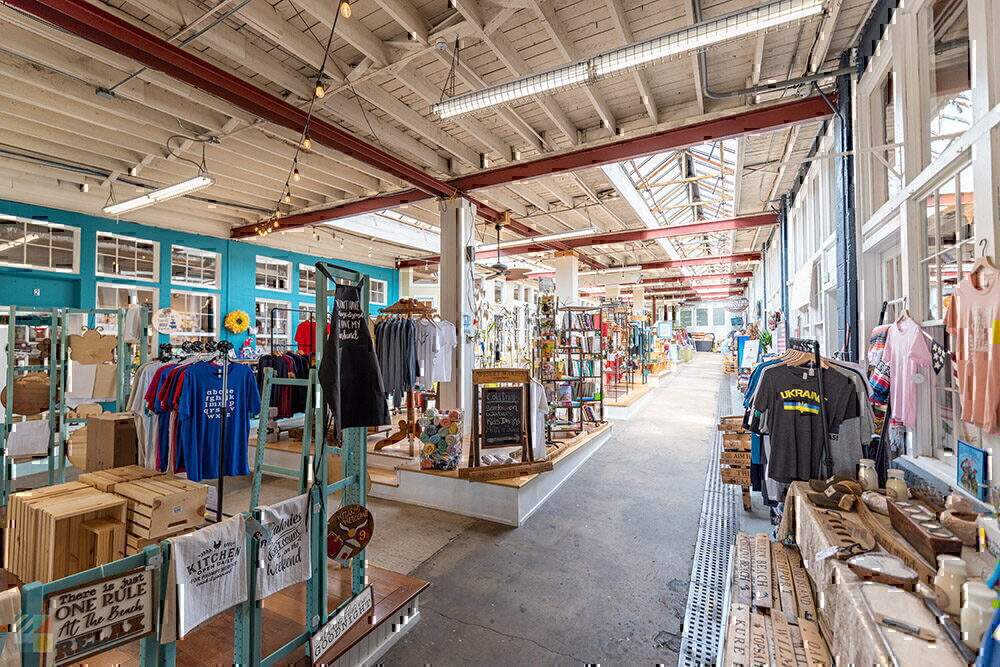 Situated in the heart of the downtown area, and expanding for a full city block, the Old Wilmington City Market is a distinctive destination where history and shopping are effortlessly combined. Though it has served a number of purposes over the years, these days, the Old Wilmington City Market is known as a convenient destination for visitors who are on the hunt for some of the Port City's more unique shops, with goodies that range from regional artworks to tasty local coffees.

The one-story brick and stucco building might not stand out in the crowd of ornate historic homes and tall brick buildings that dominate the downtown area, but the Old Wilmington City Market is nevertheless a piece of regional history, with a spacious and surprising interior that proves there's more than meets the eye to this shopping center.

History of the Old Wilmington City Market
The Old Wilmington City Market was first constructed in 1880 in a prime spot in the downtown area, straddling the borders of Front Street and Water Street. Shortly after its construction, and starting in 1892, the city took ownership of the expansive building and used it for a long list of temporary purposes, such as a meeting space for civic groups or church congregations. This usage was sporadic, and the building even sat vacant for a while, as building boomed in the Wilmington area with taller and more stately structures taking up space in the downtown region.
Around 1919, the building was converted into an auditorium for a brief spell, because it was transformed into a farmers' market in 1920 – a role it held for 40 years.

Eventually, the Old Wilmington City Market was sold in 1960 to a former city councilman, James Batuyios, who remodeled the building into five separate offices. It changed its appearance again in the 1970s, when stucco was added to the original brick exterior on two sides of the structure.
It would serve additional purposes over the next few years and decades, eventually becoming the shopping center that it is today. Although untold cycles of remodeling have transformed the space from its original plain brick stature, detail-oriented visitors will still be able to find touches of its past, from the patches of bare-brick walls to original interior fixtures.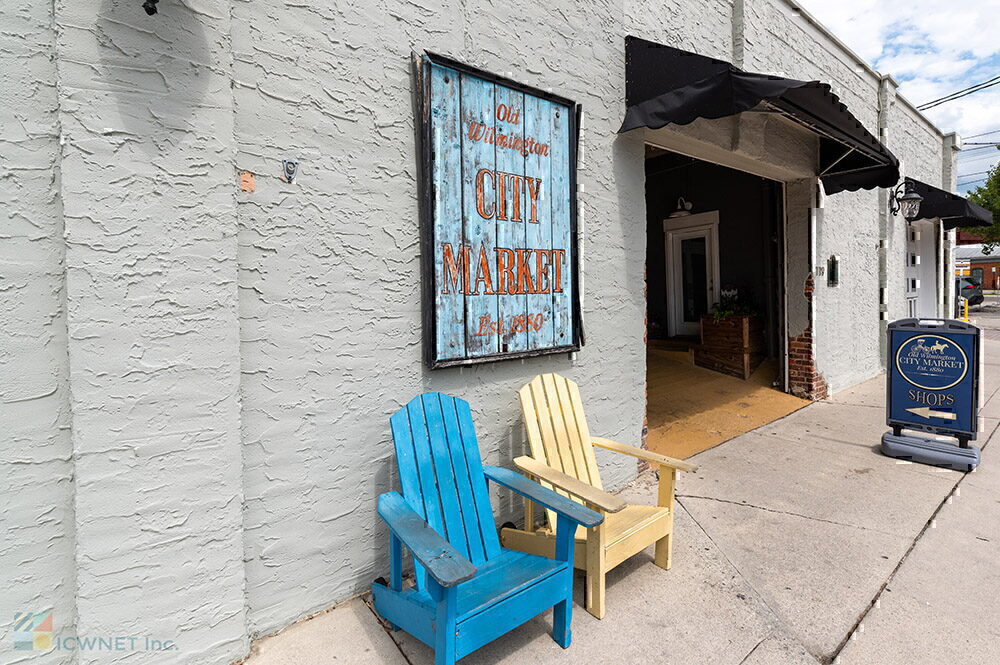 What you'll find at the Old Wilmington City Market
The simple exterior of the Old Wilmington City Market belies a sprawling and inviting interior, where 14-foot ceilings and glass skylights run the length of the block-long building.

Protected from the elements and boasting a huge retail space, visitors will find a collection of shops with wares that pour out into the interior's main corridor, (although there's still plenty of elbow room for dozens of shoppers to meander at once.)
The selection of shops can vary, but visitors can expect to discover a hefty sample of Port City goodies. Currently, the Old Wilmington City Market is particularly popular with foodies, as the shopping center features a coffee shop, an organic goods store, and a Carolina Country Store where shoppers can load up on everything from barbecues and marinades to snack chips and even dog treats.
There's also gallery space in the Old Wilmington City Market, featuring a unique collection of works from local, regional, and international artists and designers who specialize in homemade wood products.

With a charming space that's easy to explore no matter what the weather brings, the Old Wilmington City Market is a great destination for visitors to enjoy a hefty sample of the Port City shopping scene, without multiple stops or extra legwork.

How to reach and explore the Old Wilmington City Market
With a central locale, the Old Wilmington City Market is easy to reach for visitors throughout the downtown area, Take US 17 Business to the heart of the city, and you'll find several public parking lots within a stone's throw of this shopping destination.
Visitors who are exploring downtown Wilmington on foot will also be able to reach the Old Wilmington City Market via the waterfront Riverwalk, as the one-story building is at the southern end of this scenic walkway. Sandwiched in between two of the downtown area's most popular streets – Water Street and Front Street - Old Wilmington City Market is hard to miss for folks who are sightseeing in Wilmington's most distinctive and popular neighborhoods.
The Old Wilmington City Market is currently open on Sundays through Thursdays from 10:00 a.m. until 6:00 p.m., and is open on Fridays and Saturdays from 10 a.m. until 8:00 p.m. For more information on the market, including current shops and eateries, visit the Old Wilmington City Market's website.

Though the Old Wilmington City Market may not stand out in a crowd like some of its towering neighbors, this local site is worth a stop for a myriad of reasons. Featuring a cool and eclectic collection of shops with local wares, and offering an inviting space that has decades of history, the Old Wilmington City Market is a perfect combination of history and shopping-oriented fun, and is a great example of the unique culture of distinctive Downtown Wilmington.
Is this your business? Update your listing by messaging us